So the time has come for me to rank my favourite Drag Race seasons. As the excellent second season of Rupaul's Drag Race UK draws to its conclusion, I felt it was time to look back over the seasons and decide which ones I feel stand tall above the rest. This is no easy task, especially as I will be including both the US and UK seasons as well as all the All Star seasons, there has been a lot of battling Drag Queens over the last 13 years and by God it's been good!
Sadly season 13 of the US season won't feature as it's still only half way through and if we're being honest, it's pretty shite. Also not included is any other international version as I'm yet to watch Canada's version or any other, apologies.
10. All Stars 3
All Stars 3 had a lot going for it, a stellar cast featuring fan favourites, a tried and tested all stars formula (vote bitches off the island) and some brilliantly conceived challenges. It was all going so well too, but Drag Race's penchant for "twists" to keep the show fresh backfired massively in the finale whereby the eliminated Queens scuppered the showdown we should have got between eventual winner Trixie Mattel and Shangela. It was an unnecessary move that robbed the finale of the excitement it should have had.
But despite this, it was still a fun ride. BendeleCreme's early dominance and brilliant snatch game as Paul Lind, followed by her self elimination were highlights, as well as Shangela's bizarre and sometimes obsessive Game of Throne's references, Trixie's awful but iconic impersonation of Rupaul and Kennedy Davenport's hilarious challenge dominating improv skills. All Stars 3 lives in the shadow of All Stars 2, but it is still one of the best season of the show and deserves it's 10th place on my list.
9. Season 3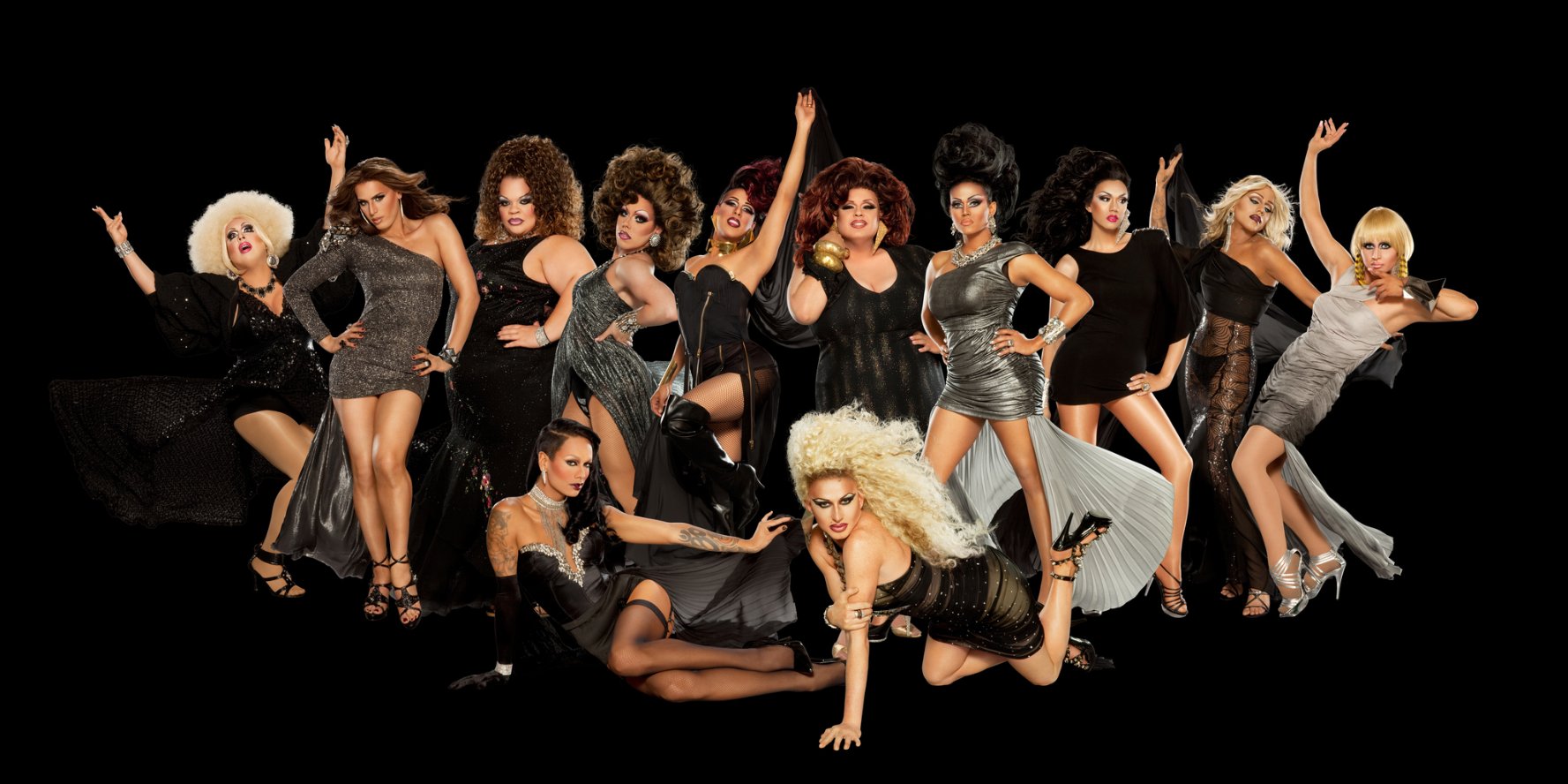 The early seasons of Drag Race are really nice to go back to as they often feel a lot less driven by controversy and producer meddling. They come across more natural, with the Queens a lot less polished and prepared for what's to come and season 3 combines that rawness with a more honed sense of what the show was meant to be.

This was a stellar cast of very likable characters such as Manila Luzon, Delta Work, Shangela, Yara Sophia and eventual winner Raja, they all worked well together despite a mid-season divide of the Queens (Heather's Vs Boogers) which was childish and eye rolling, but a combination of fun challenges and some great fashion from Raja makes this season stand out. Not to mention this features a legendary lip-synch where Mimi Imfurst power lifts India Farrah, it's hilarious.
8. Season 7
Season 7 got a lot of hate when it debuted, but I think this season deserves a lot more credit. Yes there were too many acting challenges and the cast was maybe a little too bloated, but there were some real stand out moments in this season, including the second best Snatch Game to ever feature on Drag Race with all of the queens succeeding somewhat, with Kennedy Davenport's Little Richard, Ginger Minj's Adele, Pearl's Big Ang and Katya's Susie Orman really standing out. The episode dedicated to Divine and John Waters was brilliant, with all the queens embracing the absurdity of this historic drag performer.
There's a lot of stand out queens in Season 7, the 4 aforementioned queens but also Miss Fame, Jasmine Masters, Trixie Mattel and eventual winner Violet Chachki, whose first episode "2 in 1" Spring look still gives my willy a little twinge.
7. Season 9
I liked season 8, but 7 and 8 back to back feels a little uneventful, so season 9 felt like a shot in the arm, especially in the latter half of the season. The diverse cast really helps Season 9 rise above some of the others and an absolutely iconic finale that has yet to be topped. Rose petals now have a new meaning to the gay community and we will never be the same again. In the twist to the formula that saw season favourite Shae Coulee get annihilated in a lip-synch against best mate Sasha Velour, it was a shocking but joyous moment as a well liked queen truly proved her absolute brilliance in a unique way. It's an iconic moment for the show.

Stand out's of the season are Valentina, Peppermint Farrah Moan and Aja. This season also features the Valentina mask lip-synch, I absolutely loved the drama.
6. UK Season 1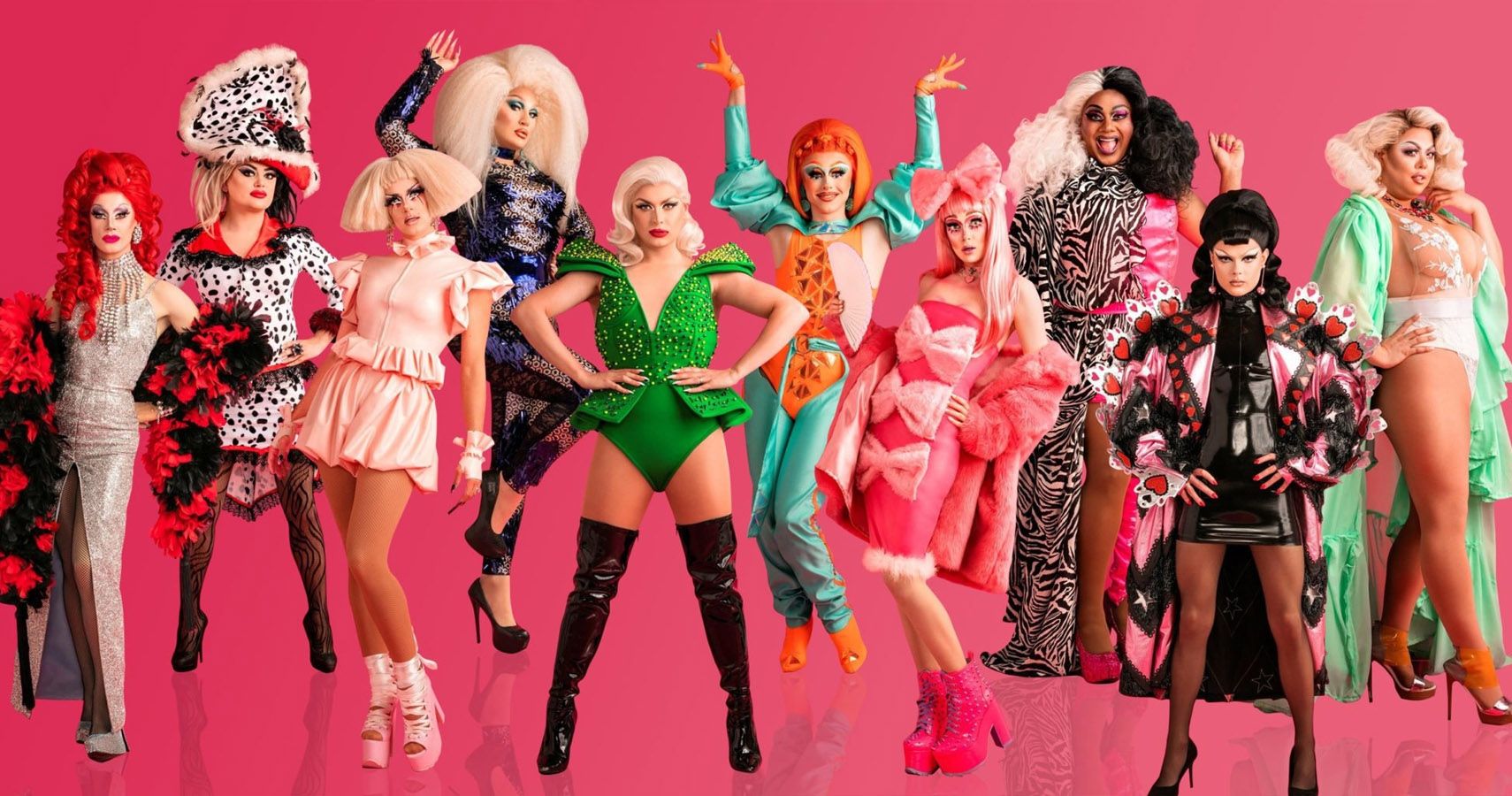 It had been a very long time coming, why it took UK broadcasters so long to bring Drag Race to the UK, especially with the UK's history of Drag on primetime television is anyone's guess. Channel 4 and ITV must be kicking themselves for not snapping this show up now, but their less was the BBC's gain. It was the breath of fresh air Drag Race needed. Gone are the cut-throat digs for the desperation of $100,000 payday of the US season, instead we have Kim Woodburn impressions and cheeky British humour and some shite plastic badges.
It was a stellar cast of likable queens. With the top 5 queens Cheryl Hole, Blu Hydrangea, Baga Chips and eventual winner The Vivienne all being an absolute delight to watch. Not to mention the brilliant Frock Destroyers song Break Up (Bye Bye) that will go down in drag race herstory as one of the best Rupaul songs ever! It's still in my head over a year later.
5. Season 12
Certainly the best season for the newer seasons of the show, the quality of season 12 was somewhat marred by the Sherry Pie's controversies, meaning a would-be front-runner ended up getting cut out of the show as best they could. But even with those issues season 12 was barnstorming success.
With a mix of humours and endearing queens like Heidi N Closet and Jackie Cox, some brilliantly done challenges (the Madonna Rusical being one of the best they've ever done), some stunning fashion moments from Nicki Doll and Gigi Goode and the fabulous weirdness and personal growth of Crystal Methyd makes this one of my all time favourite seasons.
4. Season 5
Season 5 felt like a turning point for Drag Race, this was the season where I feel comedy started to become a more domineering force in the show. This is one of the best seasons as it was anyone's game. All the 3 finalists had 2 wins each, they all offered something different from one another and they were all fabulous. So the finale episode was one of the most tense and exciting of any season.
It had some of the most iconic challenges like the perfume challenge (Red for Filth, Delusion: Convince Yourself), the Candy Ball, telenovela (watching Alyssa attempting to orgasm, but sounding like she's having a bunion removed will never get old), Can I get an Amen and Jinkx Monsoon's legendary Little Edie impersonation on Snatch Game. It's a season I can re-watch as it's just so much fun, but also feel-good, with Jinkx Monsoon overcoming the pressure from Relaskadox and coming out triumphant.
3. UK Season 2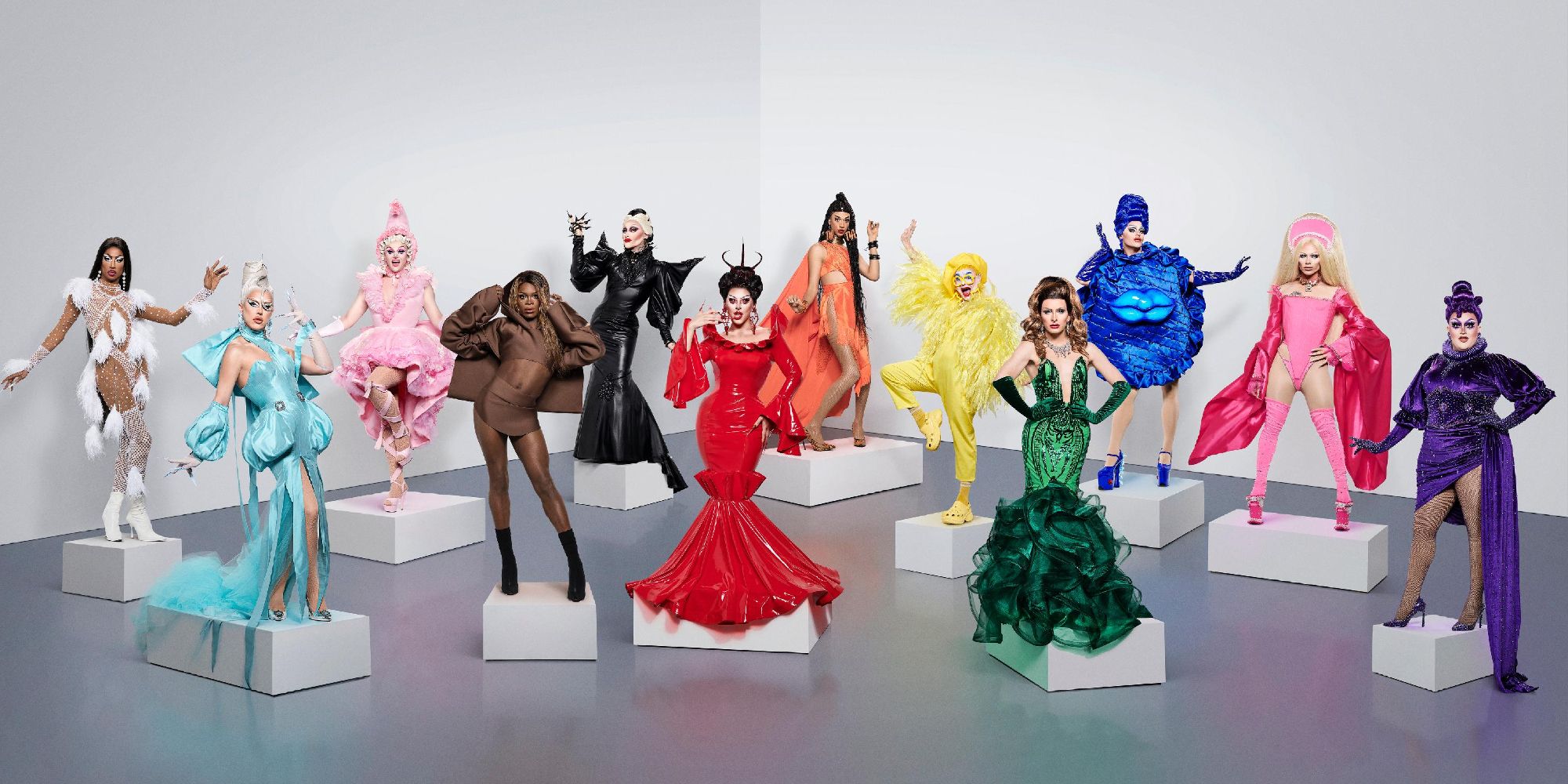 UK Season 1 was stellar, but with only 10 Queens it felt like a mini series, whereas season 2 felt fuller and more well rounded. Again the Queens are all an endearing bunch, all of them have a sharp sense of humour and it was great to finally see some more left field queens like Ginny Lemon and Joe Black, as it's very representative of UK drag, I'd love to see some bearded Queens in season 3.
The season felt like more of a competition with higher stakes than the previous season, with a covid break shaking things up and turning the competition completely upside down. After a 9 month break the Queens returned and a rejuvenated Bimini Bon Boulash started to absolutely dominate turning a lovable underdog into a real contender for a crown. Despite some slightly wonky challenges in the latter half of the season (stand up in front of 5 people was uncomfortable), the queens were able rise above it (some of the tasks post covid felt more hollow). Highlights include Bimini's Katie Price impression (the nipples are the eyes of the face), Lawrence Chaney general being a delightful soul, Awhora's incredible design challenge outfit, Rats the Rusical being delightfully bonkers and Tayce's damn face – what a stunning looking queen she is! It's a shame some of the judging was questionable or it might gone even higher, season 3 has a high bar to overcome.
2. All Stars 2
I honestly didn't know whether this season needed to be number 1 or not, it was so difficult to choose!
What a fucking season this was, the drama, the challenges, the laughs, the tears and Katya… Katya really made this season special, yes she was a good competitor but she was also the narrator of the season and it was hilarious. Every good Drag Race season needs a good talking head, and Katya is one of the best.
A legendary Snatch game of Alaska and Katya doing hilarious impressions of Mae West and Bjork respectively and Alyssa Edwards just randomly blurting out quotes from Mommie Dearest was EVERYTHING! A stellar stand up challenge with Alyssa, Tatianna, Alaska and Detox absolutely nailing it. The shequels acting challenge with parodies on Thelma and Louise and Whatever Happened to Baby Jane had some of the best (over)acting of any season ever. Then there's the drama; the mirror reveal mid-season, the bribery to stay in the competition, Ginger Minj's elimination and the relaskatox alliance. This season was brilliant from the word go and it never let up, I love it!
1. Season 6
Season 6 is my favourite season as it had the strongest cast of any season (all stars included), it had the best pacing, best challenges and plenty of drama to make it the most engaging season ever. Some queens went on journey's like Trinity K Bonet's self doubt, leading to her breaking free of her insecurities and making the best of herself. And we also had a star making turn from season winner Bianca Del Rio, who still remains a force to be reckoned with and is probably the most popular winner to ever grace the show, not to mention she was funny as fuck.
But even first eliminated queen Kelly Mantle had personality and was sent packing in dress that looked like bacon, it was brilliant. Aussie legend Courtney Act is still one of the most stunning female impersonators to ever take part in the show, Milk was one of the first Queens to truly gender bend in the completion, Joselyn Fox was just a delight (why hasn't she been on All Stars yet?), Leganja Estranger was a bizarre and dramatic force of nature who was insanely entertaining, Adore Delano also went on her own journey, Darienne Lake was a hilarious and bitchy queen who might have won a season with a weaker cast and Bendelecreme was just a joy to watch whose Snatch Game as Maggie Smith is the single greatest performance in the history of of the show.
Season 6 has yet to be topped for me and maybe never will, but the best thing about Drag Race is that it's still so fun to watch. Sometimes it all comes together in perfect harmony, but there's still a lot miles left in the tank of this long running series. Just please don't drag it out like you have season 13 World of Wonder, it's painful.